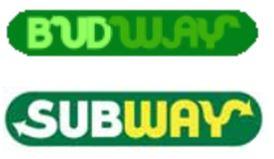 On June 10, 2021, the Federal Court of Canada (the Court) issued its decision in Subway IP LLC v Budway, Cannabis & Wellness Store, 2021 FC 583, where it granted Subway IP LLC (Subway) damages for infringement, passing off, and depreciation of goodwill of its registered trademarks.
Subway sought to enjoin Budway, Cannabis & Wellness Store, William Matovu and Atlantic Compassion Club Society (collectively, the Respondents) from using the BUDWAY trademark (shown at right) in association with a cannabis and wellness store located in Vancouver, BC. Subway argued that the Respondents' use of the BUDWAY mark infringed Subway's registered trademarks, amounted to passing off, and depreciated the goodwill in Subway's marks contrary to sections 7(b), 20 and 22 of the Trademarks Act. The Respondents did not respond to the application.
The Court conducted a confusion analysis and concluded that there was a likelihood of confusion between the Respondents' BUDWAY mark and Subway's registered trademarks.  Given the Respondents' use of logo elements similar to those found in Subway's registered trademarks, the Court found that the marks had a high degree of resemblance.  The Court also concluded that "both parties offer foodstuffs and edible products to their consumers", and therefore there is overlap between the goods.
On the issue of depreciation of goodwill, the Court held that the substantial similarities between the marks resulted in a mental linkage that was "inescapable" and the nature of the Respondents' goods was likely to depreciate the goodwill associated with Subway's marks.
The Court granted Subway injunctive relief, damages in the amount of $15,000, and costs in the amount of $25,000.
Summary By: Sharan Johal
Disclaimer: This Newsletter is intended to provide readers with general information on legal developments in the areas of e-commerce, information technology and intellectual property. It is not intended to be a complete statement of the law, nor is it intended to provide legal advice. No person should act or rely upon the information contained in this newsletter without seeking legal advice.
E-TIPS is a registered trade-mark of Deeth Williams Wall LLP.