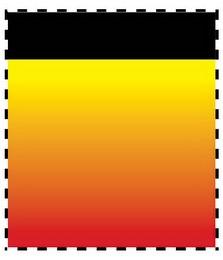 On April 8, 2020, in In Re: Forney Industries, Inc (No. 19-1073 (Fed. Cir. 2020)) the US Court of Appeals for the Federal Circuit (the Court) held that a colour mark applied to the packaging of a product can indicate the source of the goods to a customer, and therefore, can be inherently distinctive.
Forney Industries Inc (Forney) applied to register a colour trademark based on use since 2008, and described the trademark (as shown at right) as consisting of "…the colors red into yellow with a black banner located near the top as applied to packaging for the goods." 
The examining attorney refused registration on the basis that colour marks can never be inherently distinctive and evidence of acquired distinctiveness (or secondary meaning) was required.  The Trademark Trial and Appeal Board (the Board) affirmed the refusal, holding that "a color mark consisting of multiple colors applied to product packaging is not capable of being inherently distinctive." Forney appealed the decision.
On appeal, the Court held that colour marks applied to product packaging can indicate the source of the goods to a customer, "depending on the character of the color design".   The Court concluded that the Board should have considered whether "the combination of colors and the design those colors create are sufficiently indicative of the source of the goods contained in th[e] packaging." The matter was sent back to the Board for reconsideration.
Summary By: Juliette Sakran
Disclaimer: This Newsletter is intended to provide readers with general information on legal developments in the areas of e-commerce, information technology and intellectual property. It is not intended to be a complete statement of the law, nor is it intended to provide legal advice. No person should act or rely upon the information contained in this newsletter without seeking legal advice.
E-TIPS is a registered trade-mark of Deeth Williams Wall LLP.