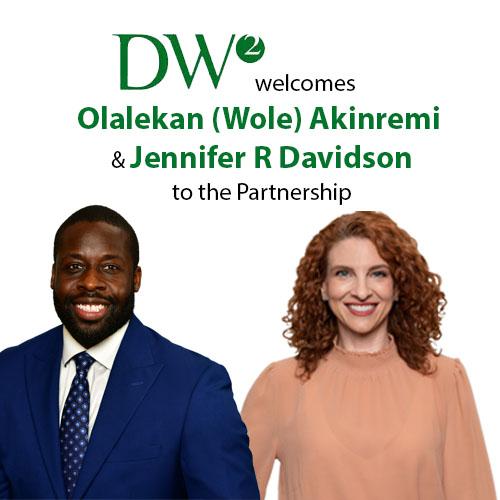 In recognition of their excellence as lawyers and their significant contribution to the firm's growth and development, Deeth Williams Wall warmly welcomes Olalekan (Wole) Akinremi and Jennifer R. Davidson to the partnership. 
Wole's practice covers a variety of information technology matters, including advising clients on privacy, data security management, software implementation, outsourcing, website development, IP ownership, SaaS agreements, PaaS agreements, and licensing agreements.  Wole also supports clients in negotiating complex Master Services Agreements and Statements of Work for professional services engagements.
Wole is a frequent speaker on technology and privacy issues and was recently a co-speaker at the 2022 CAN-TECH Spring Law Conference, where he presented on the privacy implications regarding the electronic monitoring of employees.  Wole was responsible for leading Deeth Williams Wall's Inaugural Black History Month Celebration, where he was a co-speaker on topics which included the history and contributions of Black Canadians in science and technology.
Wole regularly provides advice and coaching to internationally trained lawyers seeking employment opportunities in Canada's legal industry.  Wole has assisted prospective candidates by: (i) conducting mock interviews; (ii) reviewing cover letters and resumes; and (iii) connecting them with practitioners in their desired practice area.  He also acts as a mentor for CAN-TECH's Mentoring Program.
Wole recently received his Certified Information Privacy Professional (CIPP/C) designation.
Jennifer practices technology and cybersecurity law. Jennifer's technology practice encompasses a wide range of technology-related transactional matters, including data protection, licensing, development, S/I/PaaS, IP protection and commercialization, particularly with respect to emerging technologies and machine learning algorithms.  In Jennifer's cybersecurity practice, Jennifer advises clients on all aspects of privacy and data protection in the digital risk management lifecycle, including preparedness, risk assessment, incident response, hostage negotiations, mitigation, emergency management, due diligence and regulatory compliance.  Jennifer acts as breach counsel for clients in both the public and private sectors, managing security incidents on local, national and international levels.
Jennifer is the President of the Canadian Technology Law Association (CAN-TECH), past Chair of the OBA's IP & IT Law Section and a member of the faculty at Osgoode Hall Law School's Drafting and Negotiation IT Agreements certificate program. Jennifer is also the coach of Osgoode's international intellectual property mooting team, competing annually in the Oxford International IP Moot.  In June 2022, Jennifer was recognized with the Precedent Setter Award from Precedent Magazine. The Precedent Setter Awards recognize Toronto lawyers who have shown excellence and leadership in their first ten years of practice. Jennifer was also recently recognized on the Ones to Watch list in the practice areas of Intellectual Property Law and Privacy & Data Security Law by Best Lawyers® Canada 2022 and in the areas of Technology Law, Information Technology Law, Intellectual Property Law and Privacy & Data Security Law in Best Lawyers® Canada 2023.
Jennifer is a frequent speaker and writer on technology, cybersecurity, privacy and intellectual property law as well as matters pertaining to equality, diversity and inclusion in the legal sector.
Congratulations, Wole and Jennifer!