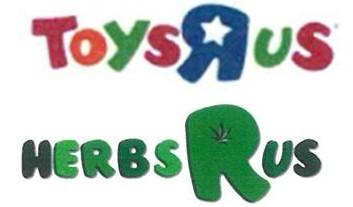 On June 11, 2020, the Federal Court of Canada (the Court) issued its decision in Toys "R" Us (Canada) Ltd v Herbs "R" Us Wellness Society (2020 FC 682), holding that use of the HERBS R US design mark was likely to depreciate the goodwill in the registered trademark TOYS R US & Design, contrary to section 22 of the Trademarks Act (the Act).
Toys "R" Us (Canada) Ltd (Toys "R" Us) is the registered owner of a family of "TOYS R US" and "R US" trademarks.  Toys "R" Us sought to enforce these marks against a Vancouver cannabis dispensary, Herbs "R" Us Wellness Society.  Toys "R" Us claimed that use of the HERBS R US design mark (depicted at right) constituted infringement contrary to section 20 of the Act, passing off under subsection 7(b) of the Act, and depreciation of goodwill under section 22 of the Act.
The Court conducted a confusion analysis and concluded that there was no likelihood of confusion given the "vast differences between the goods and services."  Therefore, the Court dismissed Toys "R" Us's claims for infringement and passing off.
On the issue of depreciation of goodwill, the Court applied the four factor test set out in Veuve Clicquot Ponsardin v Boutiques Cliquot Ltée, 2006 SCC 23.  The Court concluded that a linkage or mental association between the HERBS R US design and the TOYS R US registered trademark was likely given the "marked similarities" between the marks.  The Court also determined that use of the HERBS R US design mark was inconsistent with the reputation of the TOYS R US brand, and that this association was likely to tarnish the goodwill associated with the TOYS R US trademark.
The Court ordered an injunction prohibiting use of the HERBS R US mark and awarded damages in the amount of $15,000.
Summary By: Michelle Noonan
Disclaimer: This Newsletter is intended to provide readers with general information on legal developments in the areas of e-commerce, information technology and intellectual property. It is not intended to be a complete statement of the law, nor is it intended to provide legal advice. No person should act or rely upon the information contained in this newsletter without seeking legal advice.
E-TIPS is a registered trade-mark of Deeth Williams Wall LLP.