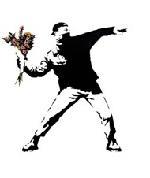 On September 14, 2020, the EU Intellectual Property Office (EUIPO) held that Banksy's trademark for the artwork 'Flower Thrower' (depicted at right) was filed in bad faith, and therefore is invalid.
In 2014, Pest Control Office Limited, the company through which Banksy operates, obtained a trademark registration for his famous graffiti artwork 'Flower Thrower' for various goods and services, including artists' materials, printed matter, games, clothing, building materials, textiles, and art work design services.
In 2019, a UK greeting card company, Full Colour Black Limited challenged Banksy's registration on the basis that it was filed in bad faith, alleging that Banksy never had any intention to use the design as a trademark, but rather sought registration to circumvent copyright law.
In deciding to invalidate the trademark, the EUIPO considered the recent decision in Sky v Skykick, as previously reported by the E-TIPS® Newsletter here.  In Skykick, the Court of Justice of the European Union held that an application filed without any intention to use the trademark in relation to the goods and services constitutes bad faith if the applicant had the intention of either:
dishonestly undermining the interests of third parties; or
obtaining a monopoly right for purposes "other than those falling within the functions of a trademark."
In this case, the EUIPO determined that Banksy did not have any intention to use the trademark in relation to the listed goods and services at the time of filing the application, and that any subsequent use was only to circumvent trademark laws, and therefore these actions were inconsistent with honest practices.  The EUIPO also concluded that the 'Flower Thrower' trademark was filed in order for Banksy to obtain legal rights over the sign because he could not rely on copyright rights, and the EUIPO held that this was not a function of a trademark and thus constituted bad faith.
Summary By: Michelle Noonan
Disclaimer: This Newsletter is intended to provide readers with general information on legal developments in the areas of e-commerce, information technology and intellectual property. It is not intended to be a complete statement of the law, nor is it intended to provide legal advice. No person should act or rely upon the information contained in this newsletter without seeking legal advice.
E-TIPS is a registered trade-mark of Deeth Williams Wall LLP.