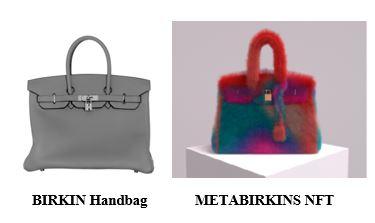 On February 8, 2023, in Hermès International, et al. v Rothschild, S.D.N.Y., No. 1:22-cv-00384, a nine-person jury in the US District Court for the Southern District of New York found Mason Rothschild liable to Hermès International and Hermès of Paris, Inc. (collectively, Hermès) for trademark infringement, trademark dilution, and cybersquatting, awarding $133,000 in total damages. This constitutes the first decision considering the nexus of intellectual property law and non-fungible tokens (NFTs). 
As previously reported in the E-TIPS® Newsletter here, Rothschild is a digital artist who created and sold "MetaBirkin" NFTs, each depicting a colourful, fur-covered handbag in the silhouette of a BIRKIN handbag (examples shown at right).  In 2022, Hermès filed a complaint asserting (among other causes of action) trademark infringement, trademark dilution, and cybersquatting as to its BIRKIN mark.
Specifically, Hermès alleged that Rothschild's use of the BIRKIN mark and/or the handbag's distinct visual appearance was likely to confuse potential consumers into thinking that the "MetaBirkins" were made, sold, or otherwise associated with or approved by Hermès.  In addition, Hermès asserted that Rothschild's use of the BIRKIN mark diluted the mark's distinctiveness and the goodwill associated with it.  Hermès also argued that Rothschild engaged in cybersquatting through his use of the <https://metabirkins.com> domain name.
Furthermore, on the issue of First Amendment protection, Hermès asserted that any artistic expression was incidental, and that Rothschild's real intention was to confuse or mislead potential consumers into thinking the "MetaBirkin" NFTs were sponsored by or associated with Hermès.
The jury concluded that Rothschild was liable to Hermès on all three claims.  The jury further determined that Rothschild was not protected from liability on any claim under the First Amendment.  That is, the jury found that Rothschild's NFTs did not constitute works of artistic expression protected by the First Amendment to the US Constitution.
The jury ultimately awarded Hermès $110,000 in damages for trademark infringement and trademark dilution, and $23,000 in damages for cybersquatting.
Summary By: Steffi Tran
Disclaimer: This Newsletter is intended to provide readers with general information on legal developments in the areas of e-commerce, information technology and intellectual property. It is not intended to be a complete statement of the law, nor is it intended to provide legal advice. No person should act or rely upon the information contained in this newsletter without seeking legal advice.
E-TIPS is a registered trade-mark of Deeth Williams Wall LLP.